125mm Sintered Cyclone Mesh Turbo Diamond Blade for Ceramic Tile
Introduce:
1.This diamond saw blades mainly use for cutting stone, concrete and ceramic,
2.It has the characteristics of long service life and good sharpness.
3.As the saw blade size is small and medium, it is easy to use, in the cutting is no deformed, flexible usage, is the most commonly used one of the series of diamond cutting.
4.Diamond mesh saw blade series, the thickness of thin, stable cutting, not collapse edge,is good for cutting granite, marble, ceramics and other non-metallic building materials.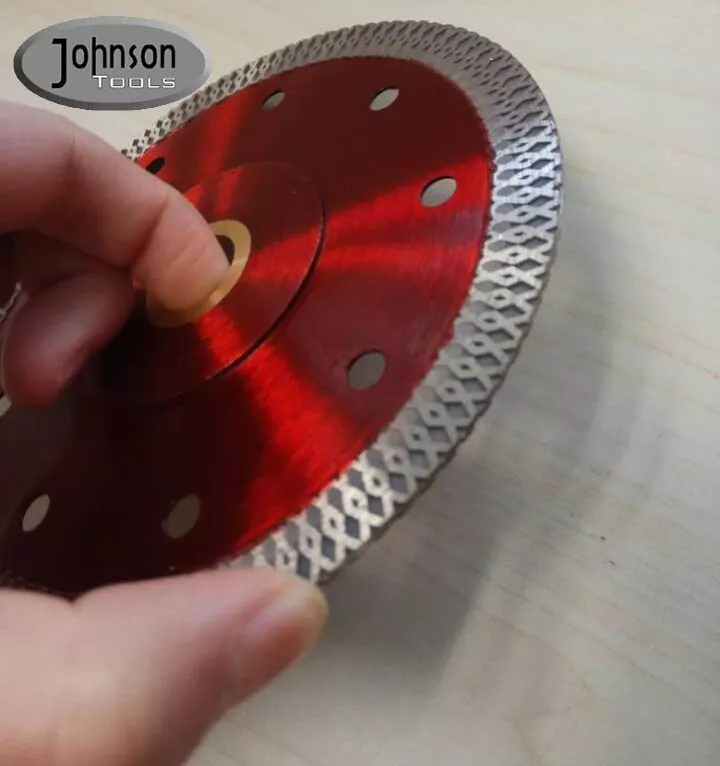 Features:
Special turbo-mesh rim design and thin core for fast cutting with minimal chipping;
Blade cuts cool with increased life and cutting speed;
Work perfect on porcelain, ceramic, tile, granite, marble, quartz stone;
Wet or dry cutting.
Machinery:
Angle hand grinder, circular saw.
Specification:
1). Diameter: 125mm
2). Hole: 22.23mm, other size do as your request
Can also do 115mm, 180mm etc.
Precautions
1.Usually the diamond saw blade with more diamonds on segment has better cutting sharpness.
2 A normal segment is silvery white; Bad segment have many impurities, which is dark.
3 Please turn off the machine power plug while installing or knocking down the saw blade;
When machine is in energized state, please don't touch or use it.
4 Cutting on a straight line or right angle when using, please don't cut in bend angle to avoid edge crack;
The direction of the arrow mark on saw blade is consistent with the direction of machine rotation;
When the saw blade is too hot, please stop work to cooling down it.
5 For your own personal safety, please do security well when operating, wear a helmet, goggles, overalls and gloves.